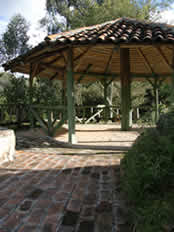 Eating yummy food is one of our favorite things about being human!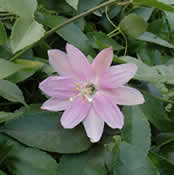 Vegetarian food can be quite tasty!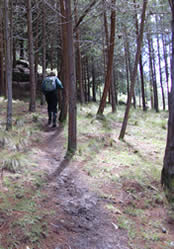 Vine ripened tomatoes are the tastiest and we never pick any vegetable or fruit before its time.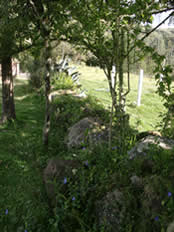 Vegetarian Food at Gaia Sagrada
For the most up to date information, visit our new website, gaiasagrada.com.
All Vegetarian, No Meat
All food is vegetarian. No meat is served
Food at Gaia Sagrada is home made in our own kitchens, with ripe and mostly organic vegetables and fruits. We cannot say it is all organic because we simply don't know on some of the sources. There is not a national certification agency in Ecuador. However, many people are growing organic food even though they don't know it is "organic" because they are not familiar with that term. We talk to the farmers and make sure they don't use pesticides, even though they are not certified organic.
A grass roots group in Cuenca has started a certification process among themselves and have their own market. Only those who have had their soils and water tested and their farms inspected, are allowed to sell in this market and this is the one we frequent the most.
Vegan
We try to provide vegan dishes with every meal for those who don't drink milk or eat eggs or cheese. We consider milk, cheese and eggs the vegetarian's meat, but if you choose not to eat those, please let us know and we will do our very best to accommodate your needs. There will always be plenty for you to eat if you are a vegan.
Gluten Free
We try to make bread gluten free whenever possible, but cannot guarantee gluten free bread at all times. We also never use gluten in meals we make.
Raw Foodists
While Gaia Sagrada is not specifically raw food in entirety, there are always options at a meal for a raw foodist. There are always cooked dishes with every meal, but we try to provide at least a 75% raw food diet to retreat participants. If you are a raw foodist who wants more than 75% raw food in your diet, you will be able to do that here, just take more of the raw food than cooked food.
Can I get a discount if I skip breakfast or other meals?
There are no discounts for skipped meals because there is always a supply of fruit and bread at all times. If you are a person who normally doesn't eat breakfast, try eating breakfast every morning while you're here and see if you feel different! We promise you will feel better.
If you are going to the city for an adventure and you are signed up for the month, we are happy to pack meals for your journey during the day(s) you are gone. This is healthier food than anything you're going to eat in the city. We do not give discounts for missed meals if you go to the city, but we do pack your lunch or dinner if you choose that option.
Gaia Sagrada Organic Farming
| | |
| --- | --- |
| We are constantly working on our organic gardens and greenhouses to provide all our needs on our own grounds. It takes time to completely build all the possibilities for gardening on the massive amounts of farmable land that we have and we are in the infancy stages of our organic gardening endeavors. We provide small amounts of our own food, but the time is coming where we will provide all of it except the lower elevation tropical fruits. In the meantime, we have excellent sources for organic fruit and vegetables while we build the Gaia Sagrada organic farm. | |
Sometimes we have raw milk at Gaia Sagrada, although not always. Raw milk is a wonderful commodity here in Ecuador, and if you drink milk you will love the milk in Ecuador! We buy it from trusted sources that provide clean raw milk to the public. It is not illegal for farmers to sell raw milk here, and it's not illegal for us to buy raw milk here!
Send Us Recipes You Like!
If you have particular vegan or vegetarian recipes you like, even raw food recipes, please feel free to send them. We would love to provide you with things you like to eat, and we are always being creative with food and the dishes we provide to the community here. Share your knowledge as much as you like with us as to what recipes you would like to see implemented.
If You Must Have Meat
You can always take day trips to the city, and while you're there you can get a hearty, meaty meal while in town. If that is something you want, there are many options in the towns and cities nearby. Our vegetarian meals are balanced with plenty of protein so you will not notice the lack of meat if it is something that is normally in your diet. However, we do not cook any meat at Gaia Sagrada, nor do we store it or allow anyone else to cook it here. If you want to bring dried meat with you that you keep with your things in your room (non-refrigerated) you are welcome to do so.
Buen Provecho! (Enjoy your meal!)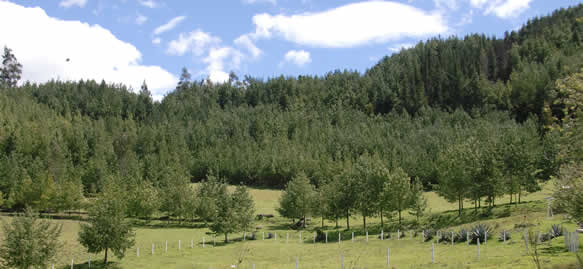 All food at Gaia Sagrada is made with love!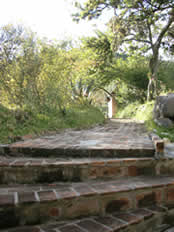 Plants are sentient beings and they experience your moods, emotions and thoughts.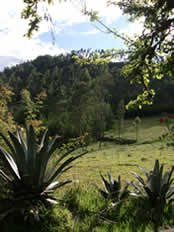 Being close to Earth might mean getting your hands dirty in the garden...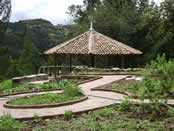 Being one with nature is a path to being one with yourself.